FUMC Safety Ministry Team
FUMC has procedures in place to give guidance to those responding to an emergency in the form of immediate assistance, medical, tornado, fire, bomb threat, lost child or an armed intruder.
Guatemala Mission Trips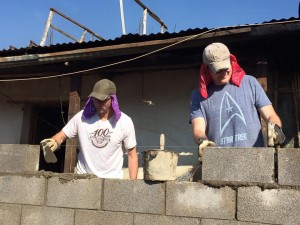 Interested in joining us on a mission trip to Guatemala?
There is a medical team group which provides medical care to the villagers, as well as training for the local health promoters with ODIM. We also take a construction team to help finish the new medical clinic in San Pablo. See Pastor Jeannie Jensen for more information.
A Thank you Letter from ODIM Guatemala
Dear First UMC Congregation,
Over the years, the people of First UMC have given $9580 in support of the innovative work of ODIM Guatemala. I want to tell you once again that I appreciate your support and so do our 40 staff who offer health and health education services to thousands in this remote part of Guatemala.
FUMC Health Ministries
Health Ministries seek to promote "wholeness" — a life that can be lived to the best of our abilities so that we might serve God as best we can.
Health Ministries is concerned about (1) physical health; (2) mental/emotional health; (3) social health; and (4) spiritual health of all age groups.
United Women in Faith
FAITH – HOPE – LOVE IN ACTION
The Vision: Turning faith, hope and love into action on behalf of women, children and youth around the world.
Food Pantry Mission
First United Methodist Church has a food pantry which helps many in our community who are hungry.
"For I was hungry and you gave me food, I was thirsty and you gave me drink, I was a stanger and you welcomed me." Matthew 25:35
 Read more about our pantry and how you can help!
Article from the Emporia Gazette
School Supply Donation Eases
Parent Stress
Parents of Emporia Public School students have less items to check off their back-to-school list this year thanks to a generous donation from the First United Methodist Church in Emporia.
The church donated back-to-school supplies for every student attending Emporia Public Schools.
Hundreds of boxes of crayons, folders, colored pencils and glue sticks are just a few of the items that were delivered to classrooms throughout the district last week……….Click here for the rest of the article
A Letter from a Teacher
To whom it may concern:
As a teacher in the Emporia District I experienced first-hand the impact of the school supply donation generously given by First United Methodist Church.  There is a giant divide in the resources and opportunities available to our young people.  We (in the schools) do our best to narrow the gap so that divide goes unnoticed, but sadly it never seems enough…. Click here for the rest of the article!